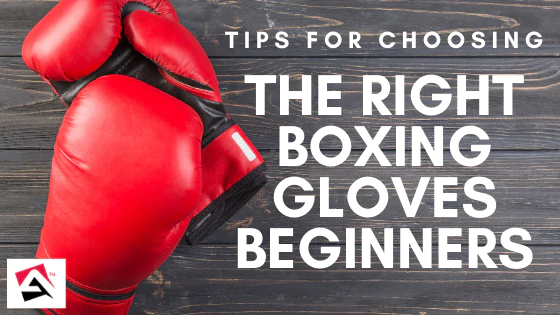 Whether you do boxing as a recreational activity or it is a training activity for you, finding the right set of gloves is the first and foremost thing that you need to do. Particularly if you are just getting started in boxing, the first item of boxing equipment you need to purchase is a pair of boxing gloves. When selecting boxing gloves, you should take your time to think carefully about everything, since it is one of the most critical aspects of boxing.
An important thing that you, as a beginner, must look for when purchasing boxing gloves is the durability. Since, gloves are an accessory that you have to wear whenever you exercise, you would not want to buy something that does not last for long, so durability is of utmost importance. Once you have found yourself something durable, then you need to decide whether it fits your budget or not.

We have done the research, for all the beginners out there, on boxing gloves, and their types, so you can easily narrow down your options to decide which one suits your needs the best and what to look for in a pair of gloves before buying one.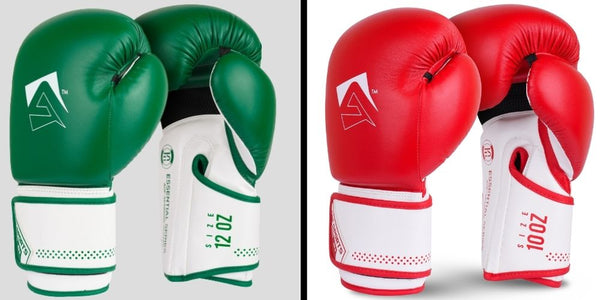 Features to Consider When Buying Boxing Gloves
Material
There are three main types of material in boxing gloves:
Vinyl
Vinyl gloves are perfect for those who want to save some money because it is the cheapest material out of the three. If you are a beginner and you wear gloves occasionally, then vinyl gloves are good for you, but if you box in a more professional routine, then you would not want them. The reason why vinyl gloves are not good for regular use is that they make hands incredibly sweaty, and they are not durable.
Genuine Leather
Made from original leather, genuine leather gloves are understandably the priciest of the lot. But with genuine leather gloves, you receive what you pay for. These gloves are extremely durable, and most importantly, they mold themselves to the shape of the hands over time.
Polyurethane Leather
Polyurethane Leather gloves are perfect for beginners who have been boxing for a while, and they wear gloves regularly. The best part about them is that they offer the same level of durability that genuine leather gloves offer but at a much smaller price point.
Weight and Size
The size of your gloves should be according to the size of your hands. You can get small, medium, and large sizes accordingly. Once you have selected an appropriate size you can move on to the weight. The weight of gloves varies with their types such as sparring gloves and training gloves, etc. Weight can range from 12oz to 20oz, so choose according to your purpose and requirements. You can refer to the table below for more measurements:


Closure Kinds
One of the most important things to consider when purchasing a pair of gloves is the kind of closure. There are two types of glove closure that are used most commonly by boxers:
If you are looking for a glove closure that is easy to adjust, then gloves with Velcro or hook and loop closure are your best bet. Especially, if you do not train in a professional setting and you train by yourself, then Velcro is the one that you need to buy because lace closure can be difficult to adjust on your own.
Gloves with lace closure, on the other hand, offer a more secure and tighter fit. They also feel very comfortable to wear. One thing worth noting is that with lace closure, you will need someone's help to lace up and then undo your gloves every time.
Hand Wraps or Inner Gloves
Hand wraps or inner gloves are very important and often ignored when selecting a new set of gloves. When selecting the size, you should always try it with the hand wraps under your gloves. Always wear hand wraps or inner gloves when exercising for maximum protection and the best possible fitting. Make sure that the material of the hand wrap offers a firm fist and is shock absorbent.
Padding
Padding is equally important when it comes to buying a new pair of gloves. The most commonly used padding includes either open or closed-cell foam. Occasionally, some boxing gloves have both horsehair and cell foam.
The type of padding greatly depends on the type of training. Depending on your type of training the type of padding can affect your fight or training session. Therefore, it is vital to ponder on the type of padding your gloves should have.
Which Type of Gloves Should You Choose?
You can not just choose any type of gloves for your training. It is important to consider your type of training before buying a new pair of gloves. Here are some of the most commonly-used gloves that a lot of beginners use:
Bag Gloves
Bag gloves have thick padding and offer ample wrist support. Bag gloves are available in two variations: classic bag gloves and modern bag gloves. Classic bag gloves are not recommended for beginners because they do not offer proper cushioning and support.
This is the main reason why a lot of professional and beginner level boxers prefer modern bag gloves, primarily to avoid hand injury.
Sparring Gloves
Sparring gloves are easy, and light on the hands and have thicker padding as compared to bag gloves. They are specifically designed to prevent injuries during sparring sessions.
If you are a beginner who is serious about boxing, then sparring gloves are the ideal choice for you.
Competition Gloves
Competition gloves are lined with lesser padding as compared to other types of gloves. They are extremely compact and are designed to hurt. Made for serious fighting, these gloves are dangerous enough to inflict injuries on fighting competition participants.
Fighting Gloves
Fighting gloves are lined with lesser padding as compared to other types of gloves. They are extremely compact and are designed to hurt. Made for serious fighting, these gloves are dangerous enough to inflict injuries on fighting competition participants.
Cardio Gloves
Cardio gloves are used for hitting heavy mitts and bags. They are lined with thick padding to absorb the impact. However, if you are a beginner and you are planning to transition to boxing, then do not get these gloves as they will not last.
Kick Boxing Gloves
Kickboxing gloves are gaining popularity all over the world because of their improved quality. They are more flexible as compared to other types of gloves such as training gloves and sparring gloves.
Also Read: Difference Between Training Gloves & Sparring Gloves
Summing it Up
Boxing gloves are one of the most significant elements of the boxing process. Whether you are a professional or a novice, the gloves you wear can influence the consistency and efficiency of your training. In addition, your protection depends on the type of boxing gloves you wear. Finding the right boxing gloves can be difficult, but it is a necessary step to start boxing especially for the beginners.
Here are a few more reads that might interest you,